Future Brewer - Meet The Women In Beer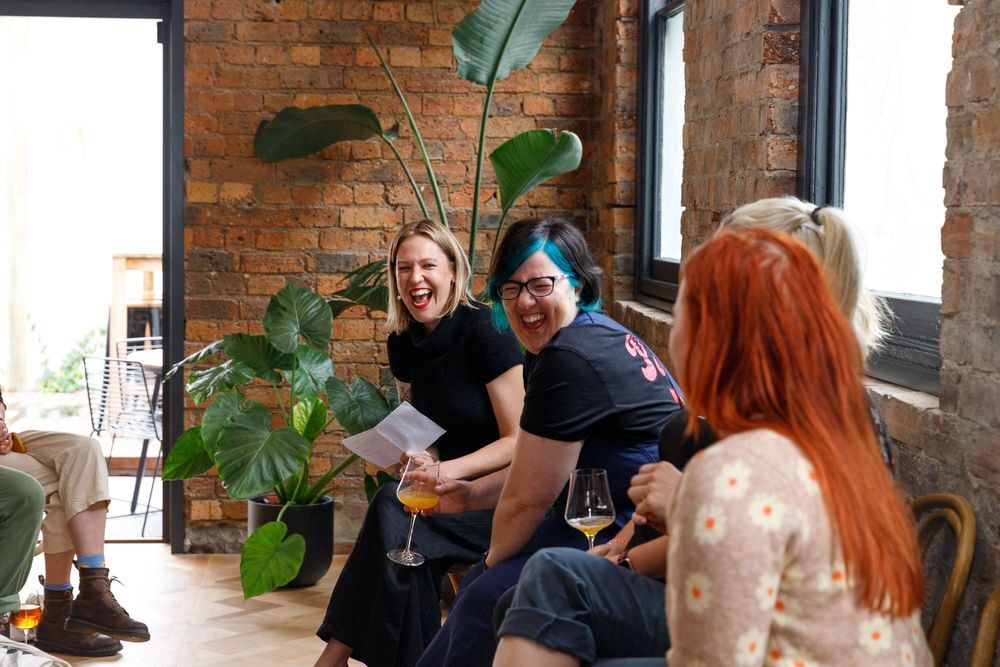 Future Brewer - Meet The Women In Beer
We celebrated International Women's Day 2022 with a day of chats, laughs and the release of a brand new beer, The Brewer West Coast IPA, brewed with the good folk at Co-Conspirators.
08 Mar 2022
by The Blackhearts Crew
We celebrated International Women's Day 2022 with a day of chats, laughs and the release of a brand new beer, The Brewer West Coast IPA, brewed with the good folk at Co-Conspirators. We invited a few women we admire in the beer industry along to share their stories, pearls of wisdom, and a few laughs in a panel hosted by our beer buyer, Cherry Noble. We could've chatted to Tiffany Waldron, Jacqui Socco, Lindsy Greig and Chloe Hoiberg all day long, but alas they're busy people and have places to be, so we pulled together a few highlights below—in case you missed it.
We hope that by bringing women together over their shared passion (beer!) that we can work to break the bias, and eventually see more and more women making their mark in the beer industry!
What do you do in the industry?
TIFFANY: Just a few things! I'm currently the president of Pink Boots Society Australia, a member of the group of women who started Beer Agents For Change, a co-host of the podcast Crack The Ceiling with Lindsy, masterclass host at beer festivals, building a Cicerone training program -- and my current full time role is with the Independent Brewers Association as Head of Marketing.
CHLOE: That's a big question, mostly sales and product development, but running Burnley means every day is different. I used to brew more, then released I hated cleaning.
LINDSY: At the moment, I am a Brewer and Lead Cellar at Stomping Ground Brewery in Collingwood, a co-host of Crack the Ceiling podcast (with Tif), and I post way too much on TikTok and Instagram.
JACQUI: I'm one of the founders of Co-Conspirators Brewing, and I'm also Operations Manager at our recently opened Brunswick venue.
When did your love of beer begin?
TIFFANY: Where I grew up, there were always plenty of brewpubs around. So while I enjoyed a Sam Adams or a Corona with a lime - it was a blueberry wheat beer from my local brewery that really caught my attention (shoutout to Fegley's BrewWorks Blueberry Belch!). I wanted to learn why I liked that beer more than others, and my journey to learning more about beer began. And then when I moved to Australia, I found that it was so hard to find a beer I liked. I would hunt down Redback, and was very happy to find Red Hill Brewery's Wheat Beer and Christmas Ale on a wine tour. Which then led me to start talking to people about beer on Twitter, and everything really snowballed from there.
CHLOE: Depends on who's asking, my mum 18, anyone else, about 16.
LINDSY: My love of beer was kind of always just there. I started drinking "craft" when I was in my early 20s—I was always bartending at bars in the states that had huge selections of local, independent beer—but I didn't actually realise that it could be a career path until I was 27, and started hanging around a brewery that was two blocks from where I lived in New Orleans.
JACQUI: I started drink beer in university, however my love of craft beer didn't come until my husband, Tim, started brewing at home.
How long have you been in the beer industry?
TIFFANY: I've been working in the beer industry for about 10 years - I quit my job and jumped in just before the 2nd Good Beer Week.
CHLOE: I started brewing when I was 18 at home, then opened my brewery in Germany at 24, then Burnley in 2017, and I am 30 now, so 12 years!
LINDSY: I've been working in beer full-time since 2015, but I have been in the industry in some capacity since 2008.
JACQUI: Five years, since Co-Conspirators started.
How did you get into the beer biz? Was it an intentional career path, or something you sort of stumbled into?
TIFFANY: A bit of both! When I started talking to people on Twitter about beer, I made some incredible connections with others who worked in the industry. At the time, I was working for a multi-national digital agency who had just started offering social media management and I saw that a few breweries were clients. I thought that I could do a much better job at it for a far lower cost to the breweries... so I gave it a go. This turned into working through many facets of the industry - from owning a beer bar to working with the world's largest brewing company... and everything in between.
CHLOE: Stumbled with purpose I'd say. I trained myself up to be in the industry, however was always worried there wasn't a place for me, so I made my own; first in Germany, and now I've made roots back in Melbourne.
LINDSY: It was an absolute stumble. I studied Musical Theatre in college, then while pursuing an acting career, I used beer-tending to supplement my income up until 2015.
JACQUI: Something we stumbled on, Tim and I wanted to do something creative as we both had office jobs. We met (Co-Conspirators co-founders) Maggie and Deon through home brew club, Merri Mashers. It was there that we educated our palates by exploring every style of craft beer, challenged ourselves to recreate our favourites—and after a few years and beers, we were starting our own brewing company!
What are you drinking at the moment? And why are you excited about it?
TIFFANY: We're on a bit of a wine kick in our house at the moment! I opened my favourite Sicilian wine from Frank Corniliessen on my birthday and I'm still thinking about it (Munjabel). And I've been claiming every year will be the 'year of craft lager' for the past few years - and for the first time I think it may finally be happening. It's been really nice to dig into the clean, crisp lagers this summer - my favourites have been Hop Nation's Rattenhund, Burnley's Helles and Range's Mustard.
CHLOE: Our Helles. I'm not even embarrassed how much I love it.
LINDSY: This summer I have been drinking lagers galore—anything that I can get my hands on. We see more Aussie breweries exploring different styles of lager, Pils, Draughts, Helles, Rauchbiers etc. and I think it's an excellent way to showcase the art of every ingredient that goes into beer.
JACQUI: Sours! I'm always drinking sours.